Who we are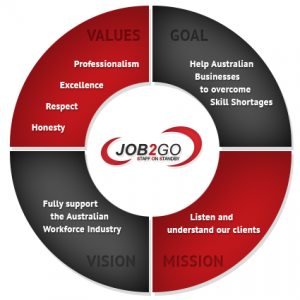 Established in 2011 as a fully Australian-o
wned company, Job2Go sets out to support the high demand and skilled employment shortage of the Australian industry. We have the resources of a large firm but still incorporated with the tenacity and close-knitted approach of a small company. Designed for Australians, we strive to take all the hard work out of your human resource and recruitment process, making sure your journey with us is smooth you are totally satisfied.
What we do
As we all can tell, the Australian economy is thriving, however the high unemployment levels and large shortages of skilled workers across many industries plague our nation's economy. That is where Job2Go comes in to fill the gap through our range of employment and human resource services.
We specialize in permanent placement by sourcing candidates from within Australia and even from all over the world. Our permanent placement service is complemented with our Staff on Standby (S.O.S) labour hire placement solution. Job2Go's clients will have supply to our qualified and skilled staff whenever required. All they need to do is get in contact with us and Job2Go will take care of what we do best.
Our Mission
Job2Go's mission is to listen and understand our clients' and candidates' specific requirements allowing us to achieve the best possible talent match.
Our Vision
Job2Go's vision is to expand our domestic and international networks to fully support the Australian workforce industry through the provisions of our qualified and trained professionals.